I felt adding some knowledge and inspiration to the blog today. Enjoy.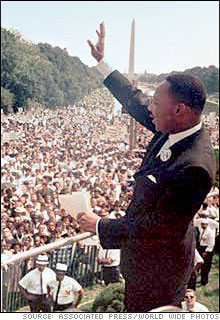 "Born in Atlanta, Georgia, Dr. Martin Luther King, Jr., graduated from Morehouse College (B.A., 1948), Crozer Theological Seminary (B.D., 1951), and Boston University (Ph.D., 1955). The son of the pastor of the Ebenezer Baptist Church in Atlanta, King was ordained in 1947 and became (1954) minister of a Baptist church in Montgomery, Ala. He led the black boycott (1955-56) of segregated city bus lines and in 1956 gained a major victory and prestige as a civil-rights leader when Montgomery buses began to operate on a desegregated basis." .. read more
here
.
MLK qoutes:
A genuine leader is not a searcher for consensus but a molder of consensus.
A lie cannot live.
A man can't ride your back unless it's bent.
A man who won't die for something is not fit to live.
A nation or civilization that continues to produce soft-minded men purchases its own spiritual death on the installment plan.
A nation that continues year after year to spend more money on military defense than on programs of social uplift is approaching spiritual doom.
A right delayed is a right denied.
Iris Flores
Chris Westphal
Onyx Wholesale Arvada, Co
(303)940-3580